Bard Professor of Marketing at Smeal College of Business, and Affiliate Professor in the College of Information Sciences and Technology, the Pennsylvania State University
Affiliate Professor of Information Sciences and Technology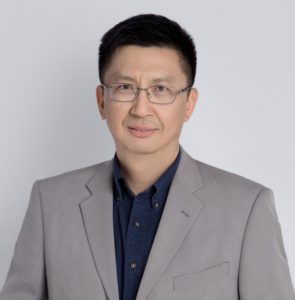 Min Ding is Bard Professor of Marketing at Smeal College of Business and Affiliate Professor in the College of Information Sciences and Technology at the Pennsylvania State University, and has held past visiting positions at Australian National University, China Europe International Business School (CEIBS), Fudan University, and MIT.
Min received his Ph.D. in Marketing (with a 2nd concentration in Health Care System) from Wharton School of Business, University of Pennsylvania (2001), his Ph.D. in Molecular, Cellular, and Developmental Biology from the Ohio State University (1996), and his B.S. in Genetics and Genetic Engineering from Fudan University (1989).
His current work focuses on:
(1) Artificial Empathy, mainly based on video analytics and audio analytics, and is cross disciplinary in nature (computer science, engineering, psychology, biology, and marketing).
(2) Fair Development (especially its implementation in commerce - Fair Wealth), a new conceptual framework he proposed as an alternative to Sustainable Development.
(3) Logical Creative Thinking (LCT), a comprehensive ideation framework based on science and nature.
(4) Matching systems, match the optimal solution for a given user in a holistic and pre-emptive way.
(5) Near Term Disruptive Technologies (such as Autonomous Vehicle (and intelligent robots) decision systems (e.g., rights of robots); meat replacement; computer generated imageries and characters).
(6) Greater China Region, including its economic and culture development.
He is the author of several books that include Logical Creative Thinking Methods (2020, Routledge), Hualish (2019, Springer English ed; Fudan Press, Chinese ed), The Bubble Theory (2014, Springer English ed; 2019 Fudan Press, Chinese ed), The Chinese Way (2014, Routledge), and The Enlightened (2010), a novel.
He is the Editor-in-Chief of Customers Needs and Solutions, and series editor of Perspectives on Sustainable Growth (Springer). He is the past V.P. of membership for the INFORMS Society for Marketing Science (ISMS).He received the Maynard Award in 2007, Davidson Award in 2012, and his work has also been voted as Paul Green Award finalists (2006 and 2008) and O'Dell Award finalist (2010).
He is also one of the promotors of House of Enlightened Needs, a social enterprise(hen103.org).